The theme for World Mental Health Day this year is 'Mental Heath in an unequal world' and here are some ways in which you can get involved.
Stamp It Out County Durham have launched a new website at https://www.stampitoutcountydurham.co.uk/ where you can:
Take part in our Art campaign.
Download FREE resources
Find out about activities and events that you can get involved in
Sign up to free training to become an Anti-Stigma Ambassador. Learn how to start conversations about mental health and help challenge stigma and discrimination.
Hello Yellow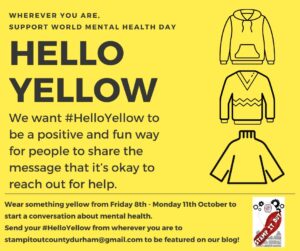 Wear something yellow from Friday 8th through to Monday 11th October 2021 to start a conversation about mental health. Join the Stamp It Out conversation at #HelloYellow that it is okay to reach out for help.
Every Mind Matters
Free Every Mind Matters teaching resources on the teacher hub, School Zone, that includes:
• Resources aim to empower young people (ages 10-16) with a toolbox of self-care strategies to support their mental wellbeing
• Resources are co-created with teachers and tested in the classroom with pupils
• Lesson plans include Every Mind Matters video content co-created with young people
• Resources support the new Relationships, Sex and Health Education (RSHE) curriculum
• Lesson plans are approved by the NHS and the PSHE Association
Teaching staff can sign up using the following link to access the resource hub for free downloadable lesson content, guides and information.
https://campaignresources.phe.gov.uk/schools/topics/mental-wellbeing/overview