Funded by Sport England, Studio You is a free online video platform, designed to engage less active teenage girls with their PE lessons. Powered by the award winning This Girl Can campaign, Studio You is packed full of content designed to get students of all activity levels excited by their physical education.
Created and piloted with PE teachers and students across the country, Studio You features curriculum-linked videos led by on screen experts covering yoga, dance, combat and more. Supported by governing bodies and associations including the Association for Physical Education (afPE), EMD UK and Activity Alliance, Studio You is designed to be fun, inclusive and empowering.
To help make the most of Studio You, the dedicated Teacher hub is packed with handy insights, from navigating the platform and recommended schemes of work, to background into each discipline and tips on getting every student moving!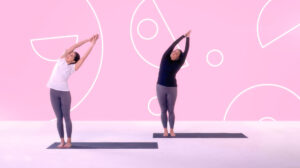 Image: Hopscotch Consutling/Sport England: Studio You
As a teacher in a secondary school you can discover free video-based PE lessons for girls aged 13-16. Studio You features a wide range of fun and engaging videos for PE teachers to use within their lessons. We offer accessible and inspirational content that is suitable for every fitness level, delivers an engaging curriculum and empowers every student to move.
Register, press play and have fun at https://www.studio-you.co.uk/
You can use Studio You to plan your lessons by choosing the duration, format and type of activity that's right for your class. Alternatively, let students browse the videos during lesson time and pick the ones they want to try. The Studio You instructors have curated content to introduce new disciplines to your PE lessons. They're qualified in different areas but share a passion for inspiring young people to move.