Wellbeing is a useful measurement to help us assess the bigger picture and narrow our focus on what we can and cannot control. It is responsive to real time changes in how an individual or a community are feeling, thinking and faring – whether that is thriving or struggling with their day to day activities. There are many tools to measure wellbeing in different population groups that reflect what is meaningful and matters to those that are responding, but it is also important to remember that wellbeing extends beyond physical and mental health. Our wellbeing can be influenced our emotional health, social determinants of health, our sense of belonging and specific individual factors.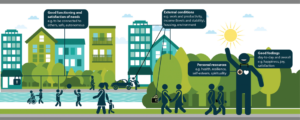 (Image: What Works Wellbeing)
When reflecting upon some of the County Durham case studies submitted by education settings locally there has been an element of assessment that has influenced the chosen intervention and then a further opportunity to reflect on progress to devise if there has been a positive or negative change.
In September 2021, What Works Wellbeing released a comprehensive package of measures in partnership with the Children's Society and The Health Foundation to help education settings measure the wellbeing of children and young people in their care. You can download the Measures Bank and review the suitable assessment tools for your education setting based on cost, benchmarking, validity and how it is used.
Examples include the Student Resilience Survey (SRS), Good Childhood Index (2010) and the Warwick Edinburgh Mental Wellbeing Scale (WEMWBS) with links provided via the website.
We also have local information available via https://www.durhaminsight.info/ where you can find out key facts about County Durham, quick profiles of our local communities and information related to health & wellbeing to inform decisions.
For more information, advice and guidance on using health related measures to assess wellbeing please contact publichealth@durham.gov.uk.